Yes, buy!  …  the home … NOT the car!
A home-buyer market segment that's conspicuously absent from the market since start of the recession recovery is first-time buyers, unfortunately for them. Mid-year 2011 homes were selling at about half of the price of construction. There was a period of nearly a year where even a fairly new home in some beautiful communities were selling for the price of a new Cadillac. Those homes have since about doubled in price. I don't believe there's a Cadillac that's done nearly as well.
Present market prices reflect an appreciation rate of 3 to 4% since 2000, so even now home prices reflect good value. See the chart below, and imagine your equity with that appreciation on the purchase price, and your ROI on your 3% FHA down payment.
Long-term, renting is always going to be an economic loser to buying. Short-term there may be some legitimate logic for renting, but only in the context of an overall strategy to get to the purchase of the personal residence as soon as possible.
Besides price, interest rates were, and still are, VERY low … the lowest in my lifetime, and that is truly a long stretch. Take a look at the chart below. Lenders are a lot more "picky" than they were back in 2005, but for those that have decent credit, there are some programs that provide a purchase pathway for very little down payment. Of course, veterans have continued to have a very easy path as well. And FHA is still out there for a total out-of-pocket of only 3% if you negotiate carefully.
Fact … even at present very low rates and a full 20% down payment, the full-term interest on a home purchase loan will total about the cost of the property … but at "normal" rates, the interest total would be double the home price.
The current low rates should be a monster motivation to BUY THAT HOME!
Hey, first-time buyer … if you are still not convinced, I have a book to recommend … Renting for Dummies … It does not have a happy ending.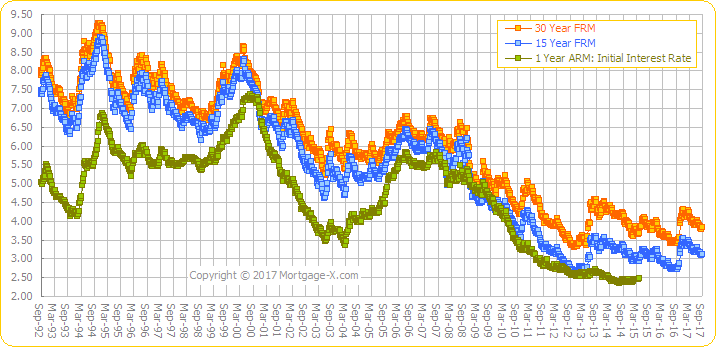 Reproduced with the permission of Mortgage-X.com